Our One Mission, Two Parishes Theme or Focus

for 2023 is:
Being the Good News
by Promoting God's Hospitality!




It gives me great pleasure to welcome YOU to our Parish Website,
The Tomb of St Luke the Evangelist

Saint Luke the Evangelist's final resting place (images) ~ Abbey of Santa Giustina (& Wikipedia)
Saints in Rome and Beyond! Saint Luke the Evangelist

pdf and our ACBC 2016 Parish Social Profile (1.62 MB) pdf
(1.62 MB)
Fr Gerard
Parish Priest
The Missionary Nature of the Church: "The Person who has trust and participates in the faith of the Church wants to believe with the Church. This seems like our life-long pilgrimage: to arrive with our entire life at the communion of faith. We can offer this to everyone, so that little by little one can identify and especially take this step over and over again to trust in the faith of the Church, to insert themselves in this pilgrimage of faith, so as to receive the light of faith ... The essence of Christianity is not an idea but a Person. Great theologians have tried to describe the essential ideas that make up Christianity. But in the end, the Christianity they constructed was not convincing, because Christianity is in first place an Event, a Person. And thus in the Person we discover the richness of what is contained ... How can one's personal authenticity be discovered if in reality, in the depths of our hearts, there is the expectation of Jesus, and the genuine authenticity of each person is found exactly in communion with Christ and not without Christ? If we have found the Lord and if he is the light and joy of our lives, are we sure that for someone else who has not found Chirst they are not lacking something essential and that it is our duty to offer them this essential reality? ... If we are convinced and we have experienced the fact that without Christ life is incomplete, is missing a reality, the fundamental reality, we must also be convinced that we do harm to no one if we show them Christ and we offer them in this way too the possibility to discover, the joy of having discovered life. (Benedict XVI 'Benedictus').

Journeying together in daily life ...
pdf CELEBRATING SUNDAY: (124 KB) 'Christians are Sunday People. What does that mean? Before we ask ourselves how we pdf "observe Sunday," (124 KB) pdf (124 KB) we have to consider what we Christians actually celebrate on Sunday. The real and first reason for celebrating Sunday lies in the fact that on this day Christ rose from the dead. In doing so, he inaugurated a new age. For the first time someone returns from the dead and will not die again. For the first time someone has broken the bonds of time that hold us all in captivity. But Jesus did not pass quickly into heaven. He did not simply shed time as one might shed a worn-out garment; on the contrary, he remains with us. He has returned and will never leave us again. The feast of Sunday is, therefore, above all a profession of faith in the Resurrection. It is a profession of faith that life is good. Very early in the history of the Church Christians asked themselves: "Why did the Lord choose this day? What meaning did he intend to convey thereby?" According to Jewish reckoning, Sunday was the first day of the week. It was therefore the day on which God created the world. It was the day on which God ended his rest and spoke: "Let there be light" (Gen. 1:3). Sunday is the first day of the week, the day of creation. That means, then, that Sunday is also the day on which we give thanks for creation … Creation has been given us by God as our living space, as the scene of our labour and our leisure, in which we find both the necessities and the superfluities of life, the beauty of images and sounds, which we need precisely as much as we need food and clothing.'
(Benedict XVI 'Benedictus')
17 November 2022 Joint Parish Pastoral Council Focus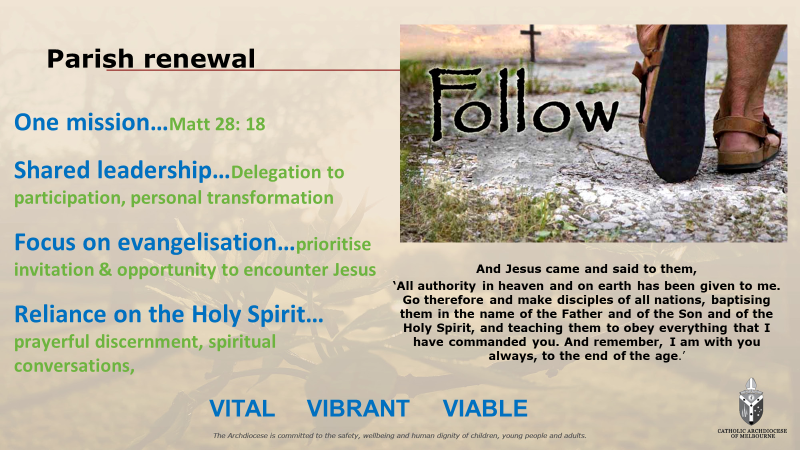 11 November 2022
30 October 2022
Please contact the Parish Office for orders This email address is being protected from spambots. You need JavaScript enabled to view it.

23 October 2022 - Thankyou to One and All ...
Companions on the Journey & 60 Years on ...

16 October 2022
Please remember that our Sunday Mass on 16 October 2022
in this Parish is at 10.00am to celebrate our
60th Annivesary together ...
12 August 2022
TWO PARISHES ONE MISSION ~ ST LUKE'S & ST TIMOTHY'S INAUGURAL PARISH GATHERING
Our Parishes ~ Unique Past, Connecting Present and Shared Future ...
SUNDAY 28th August 2022. 2 - 4pm St Luke's Parish Hall:
To bring Parishioners of the two communities together for the first official gathering and conversation about their new reality and shared future.

To share personal reflections on the past and present appreciation of parish life.

To Identify some proposed stepping-stones forward as to where both parishes discern they want to go All Parishioners from both Parishes are welcome.
2022 PARISH RENEWAL PROGRAM FOR THE PARISHES OF ST LUKE THE EVANGELIST BLACKBURN SOUTH AND ST TIMOTHY'S FOREST HILL
Our Program will commence with our 'Launch Weekend' at St Timothy's Parish on Saturday 20 and Sunday 21 August, and at St Luke's Parish on Saturday 27 and Sunday 28 August. It will be coordinated by Frank Schobben from Parish First P/L who will be assisted by Sonya O'Farrell (Parish Secretary) and representatives from our two Parish communities. St Timothy's Renewal Program Team members are: Rachel Grealy, Hubert Lobo, Alfred Lee, Anico Yee, Thuan Tran, and Kelvin Nguyen. St Luke's Renewal Program Team members are: Margaret Gearon, Melina Barcellona, Steven Kilroe-Smith, Dale Dixon, Steven Brennan, David Prabha, and Greg McKeown. We encourage you to be actively involved – read the materials, listen to the speakers and follow the Program with weekly updates through SMS and on our Parish websites.
PARISHIONER FORUM: Save the date! We will hold a special one-hour Parishioner Forum – on Thursday 1 September at 7:30 pm in St Luke's Church (46 Orchard Grove, Blackburn South). All Parishioners from our two communities are invited. It's the main meeting of the Program and will be an ideal opportunity for you to contribute to the discussion on the future priorities and plans for our Parishes.
20 July 2022
#60 UPDATE: GENERAL LITURGICAL GUIDELINES COVID-19 Implications for the Catholic Archdiocese of Melbourne Information Updated: 20 July 2022, 12.00pm
15 July 2022
Please find attached a letter from the Archbishop following his return from the Fifth Plenary Council.
23 June 2022
#59 UPDATE: GENERAL LITURGICAL GUIDELINES COVID-19 Implications for the Catholic Archdiocese of Melbourne Information Updated: 23 June 2022, 12.00pm
19 June 2022
REFUGEE WEEK 19 – 25 JUNE 2022 THEME: HEALING ~ Australia and the rest of the world have a once-in-a-lifetime opportunity to hit the reset button on how we behave towards one another. The importance of human connections has been underscored by the pandemic and such lessons can help us in so many ways.  Mainstream and refugee communities alike can draw upon shared hardship to heal wounds, to learn from each other and to move forward. Healing can occur through storytelling, through community and also through realisation of our intrinsic interconnectedness as individuals. 
29 May 2022
29 May - 5 June 2022
"We saw the star in the East, and we came to worship him."
(cf Matthew 2:2)
The Week of Prayer for Christian Unity in Australia will be observed in the week between Ascension and Pentecost.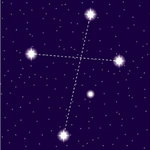 The theme for the Week of Prayer for Christian Unity in 2022 was chosen by the Middle East Council of Churches "We saw the star in the East, and we came to worship" (cf Matthew 2:2) More than ever, in these difficult times, we need a light that shines in the darkness and that light, Christians proclaim, has been manifested in Jesus Christ.
26 May 2022
NATIONAL SORRY DAY is today
Thursday 26th May 2022 & the beginning of
National Reconciliation Week,
27 May - 3 June 2022.
For more details click on the image below.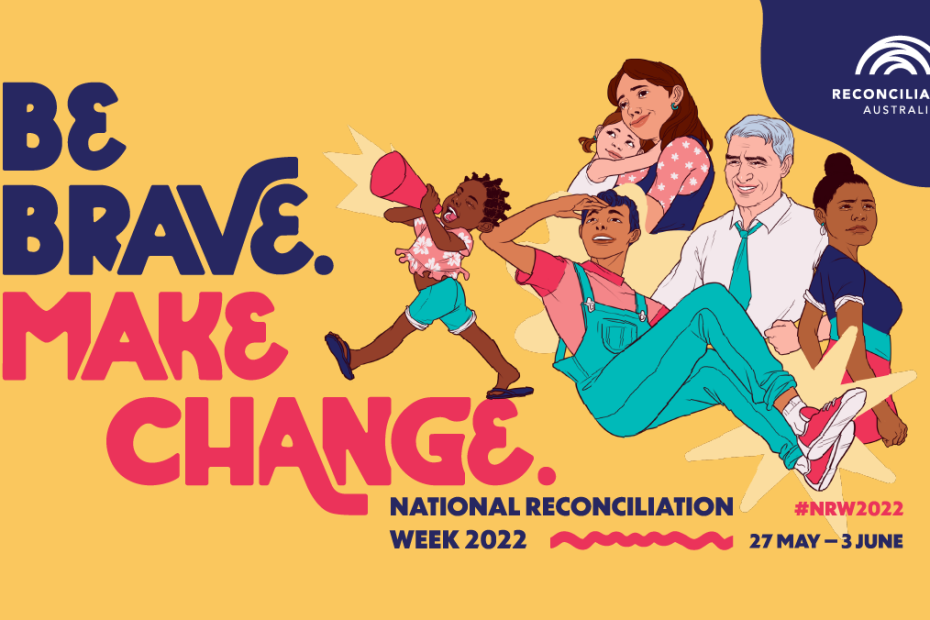 SYNOD REPORT SYNTHESIS 2022
CATHOLIC ARCHDIOCESE OF MELBOURNE ~ Our local Church in Melbourne has brought together this Report in response to Pope Francis' invitation for the universal Church to reflect upon: 'For a Synodal Church: Communion, Participation and Mission'; the theme of the 16th Ordinary General Assembly of the Synod of Bishops which will take place on October 2023. The Report will now take its part in a combined national report, which will be sent to the General Secretariat for the Synod of Bishops to be considered alongside contributions from other parts of the Church around the world. Please be encouraged to read the voices from our people, and the introductory message from the Archbishop.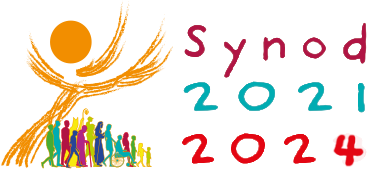 29 April 2022
Applications for 2023 Enrolments are now being accepted for Saint Luke the Evangelist
Primary School Blackburn South
Contact Number = 03 9877 4023

#58 UPDATE: GENERAL LITURGICAL GUIDELINES
COVID-19 Implications for the Catholic Archdiocese of Melbourne Information Updated: 22 April 2022, 12.00pm
17 April 2022
Easter Time: The Easter season is meant to be a great time of joy. This joy is naturally shared with others and over the centuries Christians have expressed it in different ways. For example, Christians in many parts of the world will greet each other with the "Paschal Greeting" = Greeter says "Christ is risen!" Person being greeted replies "He is risen, indeed!" It is much more than a "Happy Easter," and relates the joy one has on account of the resurrection of Jesus. The custom was originally developed within the context of the liturgy and is still maintained by Eastern Christians today.
A GENEROUS THANKYOU to all Parishioners and especially to the Members of the Parish Liturgy Group who prepared, executed and celebrated Lent and Easter this year. Our time together has been rich in prayer, symbolism and fruits. May all our efforts continue to bring about the holiness our Heavenly Father aspires for all of us, personally and communally during this our 60th Anniversary Year.

7 April 2022
22 March 2022
#57 UPDATE: GENERAL LITURGICAL GUIDELINES COVID-19 Implications for the Catholic Archdiocese of Melbourne Information Updated: 11 March 2022, 5:00pm
18 March 2022
25 February 2022
Letter from Archbishop Comensoli - Ukraine
24 February 2022
#56 UPDATE: GENERAL LITURGICAL GUIDELINES COVID-19 Implications for the Catholic Archdiocese of Melbourne Information Updated: 24 February 2022, 5:00pm
18 February 2022: Our Parish COVID Plan

Good afternoon everyone,
As you may be aware, from 6:00pm tonight, Friday 18 February, QR Code check-in for places of worship will no longer be required.
However, there are a couple of important points to keep in mind until we have further clarification:
Staff and Volunteers within the Parish setting, and its outreach, are still required to be 'fully vaccinated' or 'up to date' with their vaccination (have received two doses of the COVID-19 vaccine or have a valid medical exemption). This will require them to QR Code check-in at a location within the church or Parish if they are working or ministering during worship.

Unfortunately for Halls and Offices, the QR Code check-in is still required if the venue isn't being used for a religious or worship gathering, and those attending need to be fully vaccinated.
As mentioned earlier in the week, random COVID-compliance audit inspections are being undertaken by government authorities. If a safety inspector arrives at your Parish office and you are not ready, you may feel unsure of yourself, and a Parish may risk a significant fine (up to $20,000 for every breach). You are urged to:
Check your COVIDsafe plan and update if necessary

Ensure your COVIDsafe plan is on hand in an easy-to-find location for all clergy, staff, and volunteers, both in hard copy and electronically.
Guidance can be found at: https://www.coronavirus.vic.gov.au/covidsafe-plan
I will send out further updates on the most recent changes as more details emerge. We are also looking into Ash Wednesday and Holy Week, and how the current regulations may be expressed in the varying liturgies.
Please take care.
With kindest regards,
Annie
Annie Carrett
Chancellor of the Archdiocese,
Chief of Staff to the Archbishop
Catholic Archdiocese of Melbourne
15 February 2022
MESSAGE FROM THE ARCHDIOCESE: Recently, some of our Parishes have received unannounced visits by Victorian Government Safety Officials checking through compliance with Parish safety management under COVID regulations. This has included: Parish COVIDsafe Plans; COVID safety signage; QR check-in processes; and adherence to vaccination requirements for staff and volunteers including those within Offices and those undertaking ministering in liturgical capacities. You are strongly advised to have everything up-to-date, and to communicate your plans with everyone who works within your community. It is also recommended that a message in Bulletins to guide parishioners and visitors to your website and to the Archdiocesan website for further information could be very helpful.
30 January 2022
14 January 2022
Prayer to Saint Luke the Evangelist
...still witnessing our tradition 60 years later ~ 2022
O St. Luke, you were chosen to reveal in preaching and writing God's love for the poor.

Moved by the heavenly Spirit of Love, you detailed the life of Jesus, showing His divinity and His genuine compassion for all human beings.

We are Companions on the Journey following in the footsteps of St Luke.

As a praying Family of Families, it is now our turn to witness to Jesus and his compassion for all human beings.

Inspire our Faith to live in Community which promises our Future and invites the participation of Everyone, guided by the

Holy Spirit!

Help those who already glory in God's name to persevere in one heart and one mind and inspire all people that they may hear the Good News of Salvation. Amen.
7 January 2022
MESSAGE FROM THE CITY OF WHITEHORSE

The State Government is taking sensible steps to reduce testing queues and transmission, which came into effect at 11.59pm last Thursday evening, 6 January 2022.
We are in a new phase of the pandemic with hundreds of new COVID cases in Whitehorse each day. The message from the Victoria's public health team is that the most important thing we can do now is to get a 3rd dose of the COVID vaccine as soon as we are eligible.
It's important to make some preparations in case you need to isolate. Make sure you have a week's supply of any medications, pet food and some food in your pantry or freezer. Have some phone numbers of health services or other people you might be able to call to drop things to you.
1 January 2022: Solemnity of the Holy Mother of God

All the very best to you, One and All Parishioners
for a Blessed New Year,
our 60th as the Parish Family of Families
23 December 2021
#55 UPDATE: GENERAL LITURGICAL GUIDELINES COVID-19 Implications for the Catholic Archdiocese of Melbourne Information Updated: 23 December 2021, 5:00pm
16 December 2021
28 November 2021
THE TRUE MEANING OF THE ADVENT SEASON: The word Advent originates from a Latin word "Adventus" which means "coming" or "arrival." Advent Season is focused on preparing for the coming of Jesus Christ in all ways, from His birth in the past to His Second Coming in the future as the Messiah. For us Catholics, Advent is a meaningful season that reminds us of the reality of Jesus Christ and that He has come and He is present in our world and lives. The birth of Jesus is worth celebrating because it reveals His human side and is therefore an example of how we ought live our own lives as his followers here on earth.
19 November 2021
The separate Sunday Vigil Mass has concluded here for those with unknown vaccination status. This Sunday Vigil Mass was being offered at St Luke the Evangelist Blackburn South by our Parish Priest, Fr Gerard, on Saturday @ 4:00 PM. The average number who attended over seven weekends was 4 Parishioners, including our P.P.
9 November 2021
The Archbishop encourages you to share this message widely. Please find attached correspondence regarding the proposed new legislation, the Equal Opportunity (Religious Exceptions) Amendment Bill 2021 from the State Government, which will impact on all faith-based organisations in Victoria.
1st November 2021
In Loving memory of our Parish members who have left us since this time last year and returned home 1/11/2020 - 1/11/2021 (Special thanks to Lizzy and Marg Yore)
18 October 2021 ~ Parish Patronal Feast - Happy Saint Luke's Day


October 2021
As the Plenary Council gets underway this weekend to discern and decide how best the Catholic Church in Australia continues to bring about the Kingdom of God throughout our Great South Land of the Holy Spirit on the national stage during the 21st Century, this is how we have prayed, discerned and decided to do the same here on the local stage in our Parish. Please Sign Up and get involved ... you'll be glad you did and so will we, for volunteering shapes the soul of every community and your soul too.
Our Parish Pastoral Plan for the next 3 - 5 years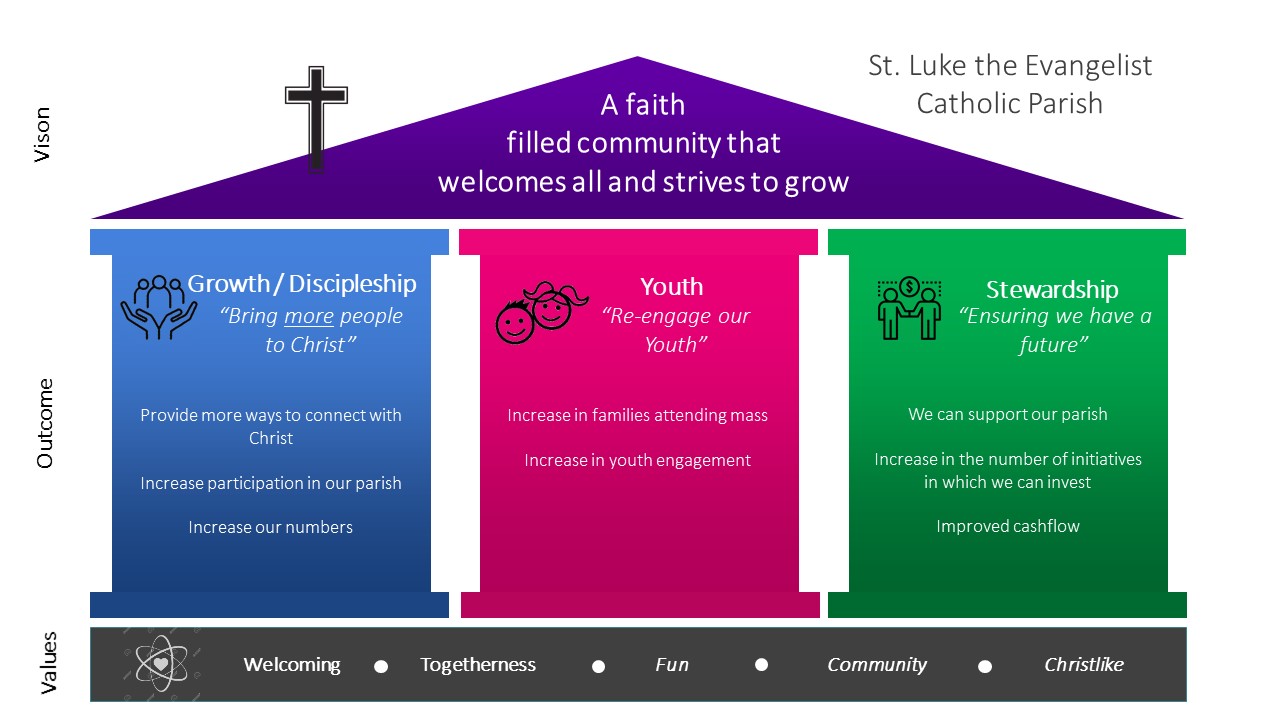 2 October 2021 Statements attributable to the Catholic Archbishop of Melbourne, Archbishop Peter A Comensoli
2 November 2020 (All Souls Day)
The Commemoration of All the Faithful Departed, remembering our own this past twelve months, in a meditative and pictorial way
18 October 2020 ~ Parish Patronal Feast - Happy Saint Luke's Day
25 September 2020
pdf Open letter to the Premier from the Bishops of Victoria (1.08 MB)
The Prayer for Serenity

God, grant us the serenity
to accept the things we cannot change,
the courage to change the things we can,
and the wisdom to know the difference.
Living one day at a time,
enjoying one moment at a time;
accepting hardship as a pathway to peace;
taking, as Jesus did,
this sinful/fractured world as it is,
not as we would have it;
trusting that You will make all things right
if we surrender to Your will;
so that we may be reasonably happy in this life
and supremely happy with You forever in the next.
Amen.
COVID19 Prayer