Our One Mission, Two Parishes Theme or Focus

for 2023 is:
Being the Good News
by Promoting God's Hospitality!




It gives me great pleasure to welcome YOU to our Parish Website,
The Tomb of St Luke the Evangelist

Saint Luke the Evangelist's final resting place (images) ~ Abbey of Santa Giustina (& Wikipedia)
Saints in Rome and Beyond! Saint Luke the Evangelist

pdf and our ACBC 2016 Parish Social Profile (1.62 MB) pdf
(1.62 MB)
Fr Gerard
Parish Priest
The Missionary Nature of the Church: "The Person who has trust and participates in the faith of the Church wants to believe with the Church. This seems like our life-long pilgrimage: to arrive with our entire life at the communion of faith. We can offer this to everyone, so that little by little one can identify and especially take this step over and over again to trust in the faith of the Church, to insert themselves in this pilgrimage of faith, so as to receive the light of faith ... The essence of Christianity is not an idea but a Person. Great theologians have tried to describe the essential ideas that make up Christianity. But in the end, the Christianity they constructed was not convincing, because Christianity is in first place an Event, a Person. And thus in the Person we discover the richness of what is contained ... How can one's personal authenticity be discovered if in reality, in the depths of our hearts, there is the expectation of Jesus, and the genuine authenticity of each person is found exactly in communion with Christ and not without Christ? If we have found the Lord and if he is the light and joy of our lives, are we sure that for someone else who has not found Christ they are not lacking something essential and that it is our duty to offer them this essential reality? ... If we are convinced and we have experienced the fact that without Christ life is incomplete, is missing a reality, the fundamental reality, we must also be convinced that we do harm to no one if we show them Christ and we offer them in this way too the possibility to discover, the joy of having discovered life. (Benedict XVI 'Benedictus').

Journeying together in daily life ...

pdf CELEBRATING SUNDAY: (124 KB) 'Christians are Sunday People. What does that mean? Before we ask ourselves how we pdf "observe Sunday," (124 KB) pdf (124 KB) we have to consider what we Christians actually celebrate on Sunday. The real and first reason for celebrating Sunday lies in the fact that on this day Christ rose from the dead. In doing so, he inaugurated a new age. For the first time someone returns from the dead and will not die again. For the first time someone has broken the bonds of time that hold us all in captivity. But Jesus did not pass quickly into heaven. He did not simply shed time as one might shed a worn-out garment; on the contrary, he remains with us. He has returned and will never leave us again. The feast of Sunday is, therefore, above all a profession of faith in the Resurrection. It is a profession of faith that life is good. Very early in the history of the Church Christians asked themselves: "Why did the Lord choose this day? What meaning did he intend to convey thereby?" According to Jewish reckoning, Sunday was the first day of the week. It was therefore the day on which God created the world. It was the day on which God ended his rest and spoke: "Let there be light" (Gen. 1:3). Sunday is the first day of the week, the day of creation. That means, then, that Sunday is also the day on which we give thanks for creation … Creation has been given us by God as our living space, as the scene of our labour and our leisure, in which we find both the necessities and the superfluities of life, the beauty of images and sounds, which we need precisely as much as we need food and clothing.'
(Benedict XVI 'Benedictus')
24 September 2023
This week we celebrate the Twenty-fifth Sunday in Ordinary Time ~ World Day of Migrants and Refugees this Sunday and the theme is, 'Free to choose whether to migrate or to stay'.

"Our attention shifts slightly in these last Sundays of Ordinary Time. We turn from concentration on the character and responsibilities of discipleship to reflection on the import of the end of time. As we move toward the close of the liturgical year, we are invited to consider the final coming of Christ and the last judgment.
The thought of judgment is enough to strike fear in the hearts of many. We sometimes experience tension between the idea of divine justice, which requires that the good be adequately rewarded and the evil be appropriately punished, and that of the mercy of God, which we hope will be generously extended to us. As seen in the readings for this Sunday, the justice of God does not conform to the standards of human justice. It is incomprehensible, because its foundation is mercy. While we might find consolation in this view of divine judgment when it is directed toward us, our hearts do not always seem to be generous enough to rejoice in the mercy extended to others. It is almost as if we feel that we have been cheated in some way, if God is merciful to others. However, divine mercy can work in us to abolish our pettiness and indignation and replace it with generosity of heart. We are called to conduct ourselves with this kind of generosity, this kind of love, this kind of mercy." © Dianne Bergant CSA
September 2023
Season of Creation 2023: Let Justice and Peace Flow
What are the Pope's Intentions for the Month of September?
For people living on the margins
We pray for those persons living on the margins of society, in inhumane life conditions; may they not be overlooked by institutions and never considered of lesser importance.
25 - 27 August 2023: EPISCOPAL VISITATION: ST LUKE THE EVANGELIST, BLACKBURN SOUTH & ST TIMOTHY'S, FOREST HILL
Welcome to our Archbishop ... who is visiting and accompanying us this weekend. May his presence in our One Mission Two Parishes be a blessing for all of us.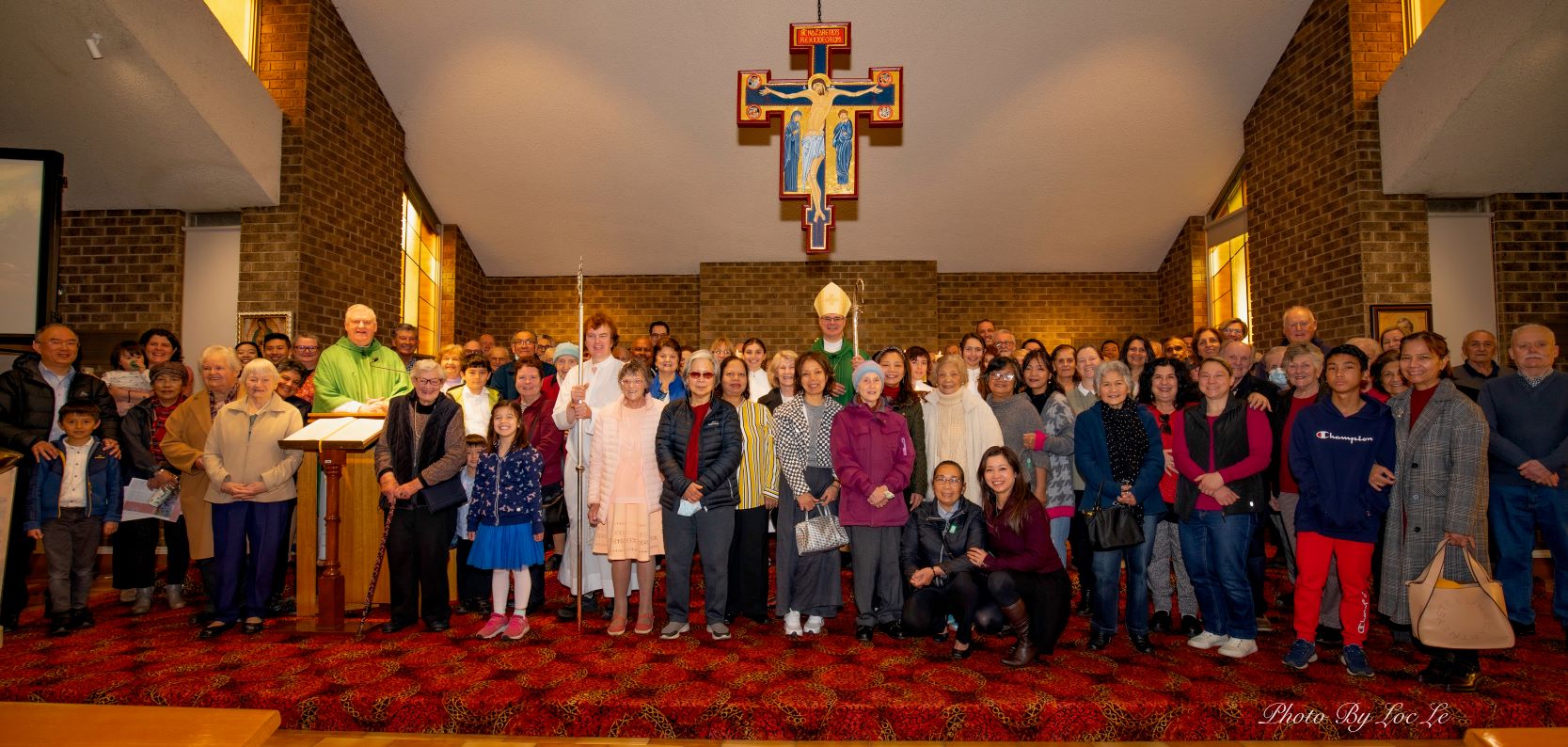 So we continue 'Journeying Together In Daily Life - From Structures To Relationships - From Delegation To Involvement'. It is therefore necessary to reawaken in every local reality the awareness that we are the people of God, responsible for incarnating the Gospel in our different contexts and in all daily situations. This involves stepping outside the logic of delegation, which so greatly conditions pastoral action.